LOADING AND UNLOADING OF TRUCKS , CONTAINERS, RAILWAY CARS AND TRAILERS
FLUID LOADING OF PACKS, BAGS AND BOXES (more than 1500 pcs/hr)
CAN BE INSTALLED FOLLOWING TO A HIGH CAPACITY BAGGING AND BATCHING SYSTEM
STATIONARY TELESCOPIC CONVEYOR UNITS FOR FACTORIES AND PLANTS
MOBILE TELESCOPIC CONVEYOR - MBHTK UNIT FOR STORAGE AREAS
CAN BE INSTALLED ON RAILS TO OBTAIN HORIZONTAL DISPLACEMENT
Model TK Telescopic Conveyor Extends Deep Into the Vehicle, Saving Time and Energy For Loading. Model HTK has the Extra Leveling Feature Which Helps Lifting The Bags On Top.The Model Choice is Mostly Dependant On The Size Of The Vehicle To Be Loaded And Also The Size Of The Pieces Being Conveyed.
Mobile Telescopic Conveyor MBHTK is Coupled with a Pulling Car and Can Displace Along The Field. Helps Stack Management Conveying The Bags or Boxes To The Vehicle From The Storage.
Model KAR Overhead Telescopic Conveyor Is Useful When Loading From Upper Floor Directly To The Vehicle.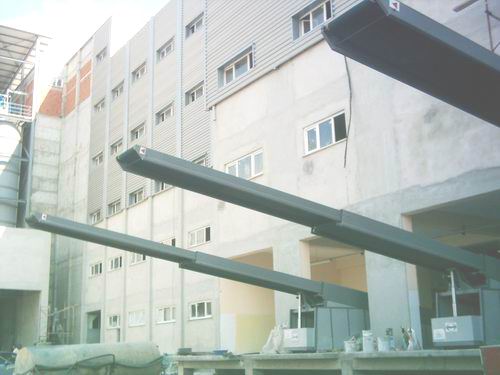 Telescopic Belt Conveyor With the Outstanding and Trouble-Free Design is an Energy and Time Efficient Solution. Telescopic Action by a Pulley-Rope System Instead of the Classical Gears, Reduces the Friction Between Parts. The Smooth Performance Helps Faster and Safer Operation, And Diminishes the Need for Maintenance.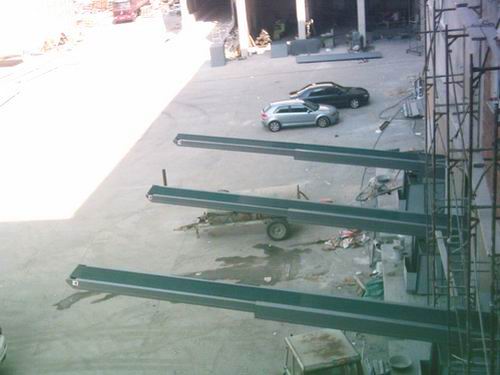 The Initial Investment for the Machine is Recovered in a Short Period by the Reduced Workmanship Costs and Operation Time. It is Especially Useful in Time Sensitive Shipping Operations. In a Manufacturing Plant With Three Shifts of Loading With Fixed Length Conveyors, The Process Can be Completed in One Shift with the Help of Telescopic Conveyor, Since an Average Truck Can be Filled up Approximately in 15-20 Minutes.